The continuous growth of tyre industry goes hand in hand with OPONEO's further e-commerce development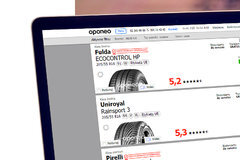 2016 - a record year for the tyre industry in Europe


According to ETRMA, last year turned out to be lucky for the tyre industry. Sales of tyres for passenger cars, SUVs and light commercial vehicles increased by an average of 2%, confirming an upward trend from 2015. Despite the weaker second half of the year, sales of tires for motorcycles and scooters has increased by 4% at the end of the 2016, compared to 2015.
Apparently, an increase in the number of newly registered cars, which was up 6.8%, highly influenced the sales performance. ETRMA's report indicates that the increase in sales of replacement tyres for passenger cars was reported in the UK, Poland and the Czech Republic. In Spain and Italy, sales remained at the same level.
On the main strategic foreign markets for OPONEO sales increased or remained at the same level, which certainly is a signal for further expansion.
- The upward trend influenced the entire automotive industry. This is confirmed by the record high sales in the history of OPONEO.PL S.A. of over 2 million tires in 2016 - informs Monika Siarkowska, PR & IR Manager of the company.
Europe 2016 – constant insufficiency
The European Commission says that still only 15% of Europeans actively use online shopping, and only 8% of small and medium-sized enterprises decide to broaden the scope of their activities, by providing a sales channel for foreign customers.
Despite not very satisfactory statistics, consumer interest in online shopping increases every year by an average of 22%, and companies are more and more interested in selling their goods online on other European markets. Experts predict that in 2018, the value of e-commerce in Europe will amount to over 660 billion euros.
- The largest foreign sales for the OPONEO's Group were in Italy and the United Kingdom, but the most dynamic growth was reported on our youngest markets; on the Slovak market, the Czech Republic and Belgium - said Ernest Pujszo, Foreign e-comerce Project Manager from OPONEO.PL.
One of the major factors, which will influence the dynamics of the e-commerce development is a cross boarder sale. According to experts, the most important players on the global market of cross boarder are currently China, UK, Germany and the US. Predicted growth in 2017 is supposed to amount to 29%. 
Attachments