The season of tire replacement has just begun.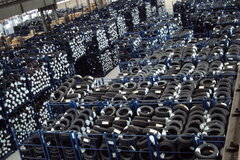 This year the busiest and most preffered time by our customers to change the tires from winter to summer ones was on the first week of April. During this period, OPONEO.PL recorded the biggest peak of summer tires sales.

Today, OPONEO.PL published unit sales revenues achieved in March this year. Last month, the company generated 43.6 mln zł revenues, which represents a 5% increase compared to the revenues in March 2015.This is another month of growth, and the lower growth rate is solely due to the bad weather conditions, it is visible, once we compare this year with the previous one . This resulted in a shift of the largest sales to the beginning of a next quarter. Therefore, at the same time the management of OPONEO.PL informed, that in comparison to the previous year, the season started during the first week of April, 2016. - The highest peak of summer tire sales was recorded at the beginning of April. In total, during the 13th and 14th week of 2016 alone, the company (without increments income from subsidiaries) obtained a 130% increase in orders compared to the same period of 2015 - says Dariusz Topolewski, CEO OPONEO.PL SA
On the 28th of April, the company intends to give to the public information the annual report on revenues from 2015.
Attachments