2016 - OPONEO reported sales of over 2 million tires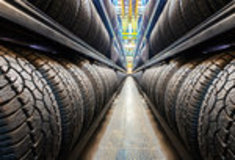 From January to December 2016. GK OPONEO sold over 2 million tires. This is the record annual sale of tires in the company's history. In early December, the company informed investors about the revenues from November, which has so far been the best month in the history of OPONEO.PL SA. Moreover, this is not the end of the company's success this year. In December the annual number of tires sold has exceeded 2 million units, while in the whole 2015 the company sold 1.5 million tires. This year, there have been a number of important to the industry factors, that contributed to the company's success : winter weather conditions, an increase in imports of used cars, as well as the overall growth of e-commerce market - says Dariusz Topolewski, CEO of OPONEO.PL SA
The increase in tire sales was recorded both in Poland and abroad.
There was an increase in sales from the warehouse about 46% ,that positively resulted in achieved margins, which increased by more than 1 % in comparison to the margin achieved in the past year.
In 2017,the company is planning the continuation of the ongoing projects and further strenghtening its position on the current markets.
Attachments