Super cars, super tires, super technologies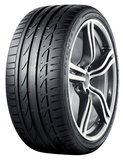 All cars, especially sport cars require carefully and properly selected tires. Manufacturers constantly try to outrun each other by offering better and more interesting models of tires.
Let's take a closer look at premium tires, that have been designed with the use of the newest technologies.
Michelin Pilot Super Sport
These are some of the fastest mass-produced tires in the world. The innovations applied in this model were developed thanks to fifteen consecutive wins in a very demanding 24-hour race at Le Mans. The double mixture technology has specifically been designed for this race, the so-called Bi-Compound, which is the arrangement of two different rubber compounds to the inner and outer side of the tread. On the outer side, they applied carbon black reinforced elastomer securing strength even in sharp turns. In contrast, elastomers on the inner side, adjacent to the smallest surface irregularities ensuring a good adhesion. The Variable Contact 2.0 technology has also been designed to ensure good adhesion. This time with a focus on rapid acceleration on the straight and cornering at high speed. A goal could be achieved thanks to the fact that the tire adapts its shape to the type of the track. Shape of the contact patch changes when cornering, while the surface of rubber in contact with the ground remains the same. Greater stability of the tire at high speeds is provided by Twaron's belts. Aramid fiber with high density is highly resistant to stretching. According to the Twaron's manufacturer , its sample is five times stronger than steel samples of the same weight. Michelin Pilot Super Sport has been selected as an original equipment for such cars as : F12berlinetta ( one of the newest models of Ferrari) , Ferrari F458 Italia, Posche TURBO S, Koenigsegg Agera , BMW M5 and M6.
Bridgestone Potenza S001
The tire is definitely designed for powerful cars with a sporty character. The big advantage of this model is an advanced asymmetric tread pattern, so that the tire has good performance on both dry and wet roads at high driving comfort and driving safety. Thanks to specially designed sloping grooves, the tire resists aquaplaning. The tire is also provided with peripheral blocks for optimal road holding, braking and cornering grip. Model Potenza S001 is one of the most sold in the premium class in our store. It is appreciated by the customers due to the strength and adhesion - explains Filip Fischer, Head of Customer Service Oponeo.pl. Bridgestone Potenza S001 is a standard-production equipment for example in Ferrrari F458 Italia, Porsche Panamera and Audi RS5.
Continental ContiSportContact Vmax
It is the natural successor to the well-known model ContiSportContact 2. It is the world's first road tire, which can reach speeds of up to 360 km / h. With such significant speeds, the greatest threat is the overheating of the tires. To avoid this, they slightly reduced the tread depth and increased the number of channels on the inner side. Optimized contour wrap for high-speed and reinforced sidewalls ensure precise handling even under high centrifugal forces. Continental ContiSportContact Vmax is a tire for sports cars with engines of high power.
Dunlop SP Sport Maxx TT
In this model DuPont ™ Kevlar & reg technology has been applied. The side walls have been strengthened and stiffened with Kevlar fiber, which increased steering precision. Thanks to its unique tread compound with nanoparticles of black carbon used in racing tires , combined with resins and polymers, the tire has excellent traction on both dry and wet roads. With this innovation, Dunlop SP Sport Maxx TT also distinguished precise braking and smooth, even wear.
DunlopTouchTechnology allows us to sense the road surface.
This model has been selected as an original equipment for such cars as : BMW X3, Renault Megane - RS or Volkswagen Phaeton.
Attachments